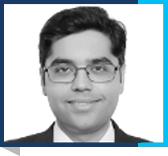 Lovkesh Kapoor
Lovkesh heads the Client Associates Investment Banking division (CAIB). He is a reputed finance professional with extensive experience in corporate finance & investment banking. He has worked with several large enterprises in senior executive roles.
He started his career with SBI Capital Markets where he led some marquee structured finance transactions for large corporates in India.
Previously, he ran his own boutique investment banking practice, WisdomHill Capital Advisors, where he assisted large and mid-sized companies with all their corporate finance needs and had special expertise in the areas of private equity and Mergers and Acquisitions.
Lovkesh has a Master's degree in Finance from the University of Delhi and is a business graduate from the College of Business Studies.
He believes that spirituality should intersect with business to make it more meaningful and impactful. The future of businesses will lie in going beyond unidimensional economics and being equally committed to people and environment to ensure sustainability.