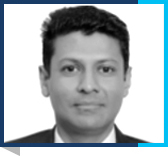 Nikhil Bansal
Nikhil came on board in 2008 to set up the Client Associates Real Estate division, CARE. His key strength lies in helping his clients optimise the yield on their real estate portfolios. That, coupled with relationships built over the years with reputed developers and other channel partners, has resulted in a credible Practice. His portfolio of Ultra High Net worth Individuals includes business owners, self-employed professionals and ex-patriates et al.
He has spent almost two decades in the real estate sector and has a deep understanding of its complex and challenging environment. Thus, he is able to advise on strategic and tactical real estate investments, which include funding developers, joint ventures, renting, selling or buying properties across various segments such as residential, commercial, industrial and warehouse. Nikhil has worked with E Realty (now Prop Equity), Arora & Associates and SALCON in the past.
He has a Bachelor's degree in Commerce from the University of Delhi and is an alumnus of the Fore School of Management.
Nikhil believes in long term relationships and strives for the same even in a transaction-oriented business like Real Estate.