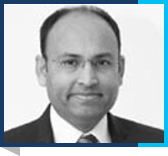 Rohit Sarin
Rohit is the Co-Founder of Client Associates. He has more than two decades of experience behind him in the areas of Corporate Finance, Private Banking and Family Offices. Prior to founding Client Associates he worked with Deutsche Bank, ANZ Grindlays Bank and Kotak Bank.
Over the years Rohit has earned the distinction of pioneering the concept of Family Office in India and has built one of the finest teams of private bankers who work with some of the most distinguished wealthy families of India. In recognition of his pioneering efforts towards Financial Planning profession in India, Rohit was conferred with the Grandfatheree status of Certified Financial Planner (CFP) in 2003 by Financial Planning Standard Board (FPSB), India. Rohit has been invited several times as a keynote speaker by various educational institutions of repute in India. He gets frequently invited by the private wealth industry to speak at various national and international business summits. Rohit has built an enriching goodwill amongst wealthy families, asset managers and family offices.
Rohit is a Charter Member of TiE (The Indus Entrepreneurs) and takes out time to mentor budding entrepreneurs. He is an active member of TiE – Delhi NCR and contributes regularly towards its progress.
Rohit earned his Bachelor's Degree in Planning from School Of Planning & Architecture, Delhi and received his Master's Degree in Finance from University of Delhi. He was honoured with the "Distinguished Alumnus Award" from the Department of Financial Studies, University of Delhi and was the Govt. of India Merit Scholar at Modern School, Delhi.