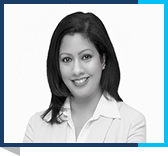 Shalini Sekhri
Shalini heads our Mumbai Practice and became a part of Client Associates in 2018. Shalini developed an expertise on markets, funds and alternate strategies over the course of her career that gives her an understanding of how the changing dynamics have created new opportunities for wealth creation in India.
She has worked in the Financial Services sector for more than two decades and has significant experience across advisory, client management, sales & strategy in banking and asset management. She has engaged with clients beyond India in geographies like Middle East, Asia and Europe, which gives her both national & global perspective.
Shalini was previously at India bulls Asset Management where she served as Chief Business Officer handling strategy, sales, marketing and service. Prior to that, she had leadership roles at ICICI Prudential AMC, Alchemy Capital, Kotak AMC and Standard Chartered Bank.
She believes that alignment with client interests and long term relationships based on Trust and Transparency are the bedrock of successful private wealth management and a key differentiator.